Trading cryptocurrencies
is Hard! I never had to deal with such complex tools and lengthy registration procedures, even when applying for my student loans.
It makes me feel like a criminal. It almost makes me feel bad. Newcomers shouldn't need to learn how to trade in order to exchange one cryptocurrency for another.
We should be able to deal cryptocurrencies like how we deal with our money. Just walk into any money changer and give them your local currency to swap for another. Simple, fast and easy.
If they give me a lousy rate, I just have to look for another who can give me a better one. Simple economics. Exchanges who are inefficient and expensive will be priced out of the competition.
Not because I missed the great run-up (though I did) and not because I fear that trading cryptocurrencies will end badly (it will, but that's not my problem) for newbies. Rather, it is because I have been waiting for someone to invent an intuitive way to swap assets, without complex stargazing charts.
Crypto Exchanges Are Raking in Billions of Dollars

It is the one killer app that no one has yet to master.
Things change when there's new infrastructure being laid on top of the old.
There's friction & conflict in-between.
From this messiness, comes the opportunity to profit from the masses.
That's how we get to a $300 billion dollar market capitalization of digital assets today despite $500 billion dollars being wiped-out in the crash of 2017-18. (Trading and speculation is the leading cause of losses)
Bloomberg estimates that the top ten cryptocurrency exchanges are bringing in as much as $3 million in fees per day in profit. 
Binance exchange alone earned $446 million in profits in 2018 despite being wedged deep in bear market territory.
Credit Karma estimates that Americans lost over $1.7 billion in 2018 trying to trade Bitcoin. The bear market doesn't care whether they are first-timers or experts when it comes to trading.
It's important to remember here that exchanges are the intermediaries we're trying to remove in the first place from the equation of money via Bitcoin.
There's no economic value being created in transferring one cryptocurrency to another, it is a cost to be paid to overcome the large inconvenience of having thousands of cryptocurrencies purely for speculative purposes.
Cryptocurrency owners worldwide frequently incur significant losses through trading miscalculation caused by the volatile nature of the speculative exchange market.
As this benefit-cost relationship continued over time, cryptocurrency exchanges evolved too.
The fastest of the lot became known as Instant exchanges.
Speed-cost became a selective advantage.
The faster and cheaper you're able to swap a coin for, the bigger the profitability you gave to your customers. And that equates to more loyal customers. Word-of-mouth is a precious marketing asset in the crypto exchange business.
It's an arms-race to develop the most efficient algorithms that gave users the most profitability.
Now let's take a look at some of these Instant cryptocurrency exchanges:
The Best Way to Instantly Convert Cryptocurrency

An Instant Exchange that doesn't need your:
email
password
personal I.D.
You don't need to go through any lengthy sign-up procedures.
There is no maximum amount for crypto exchange on ChangeNOW. Swap as much as you want! (Most exchanges require you to verify your phone or I.D before you can enjoy larger limits.)
How ChangeNOW Works:
Select your crypto, use the drop down menu to choose your preferred cryptocurrency. Enter the amount and the service will automatically calculate the amount of crypto you get in return.
ChangeNOW doesn't hold onto your crypto assets, so you will need to enter your own wallet address to receive your converted coins.
Click "Confirm" to proceed if you like the rate you've been offered.
Send the exact amount of cryptocurrency you agreed to the address provided and then wait until you receive your coins.
You can check out the rates offered at ChangeNOW here.
Godex is an Anonymous Instant Crypto Exchange platform that offers over 300 swap pairs at fixed rate.
No registration is required on the user's end. No limits and no personal data needed. 
Step 1: Choose the currency pair.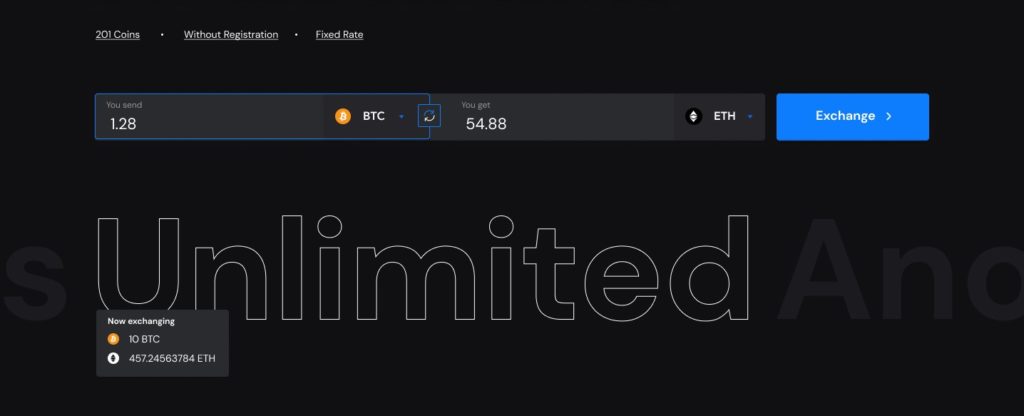 Step 2: Enter your wallet address.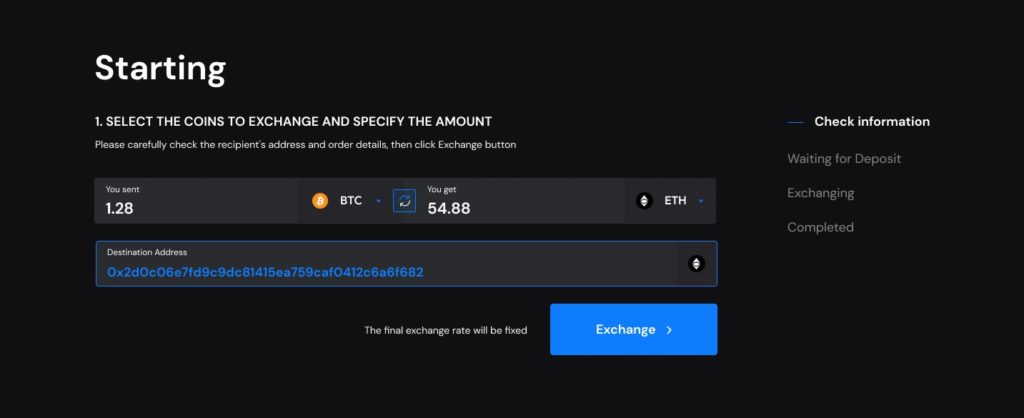 Step 3: Send your crypto to the address provided.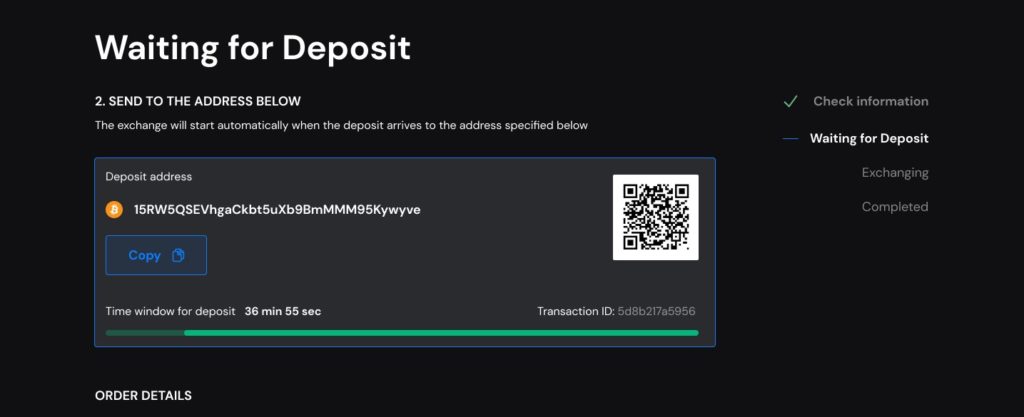 Step 4: Wait for Godex to work its magic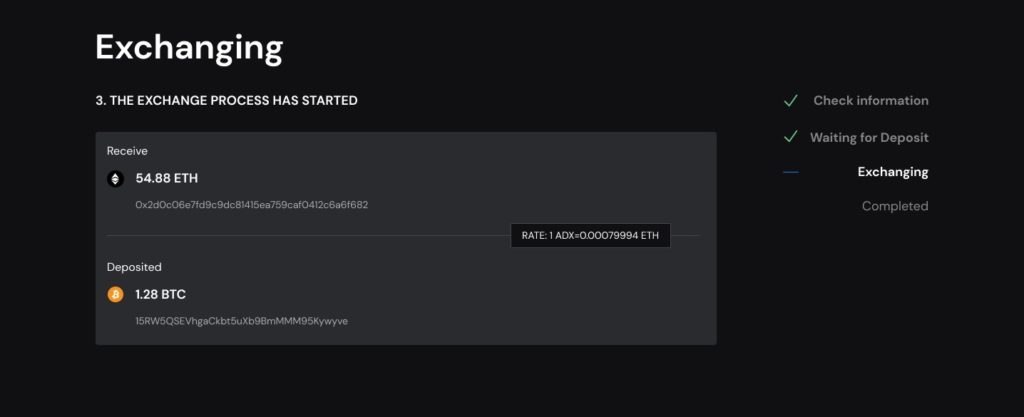 Step 5: Done. After the exchange is done, you should see your crypto arriving at the address you provided.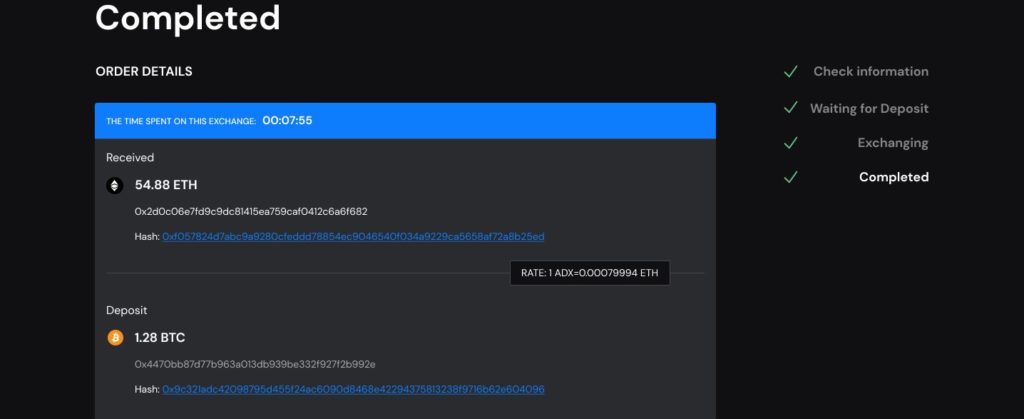 So far Godex has received a rating of 4.8/5.0 on Trustpilot:
Relatively new instant exchange

Easy to use.

Total Anonymity.

No upper limits – ∞ 

Few complaints so far…

Has the right to refuse a transaction if suspected of fraudulent activity.

Customer support, they do exist. 
SimpleSwap is an instant cryptocurrency exchange based in the Marshall Islands that supports over 300 swap pairs.
The platform does not require you to sign up and is also available on iOS & Android as well.
They offer floating and fixed rate swaps: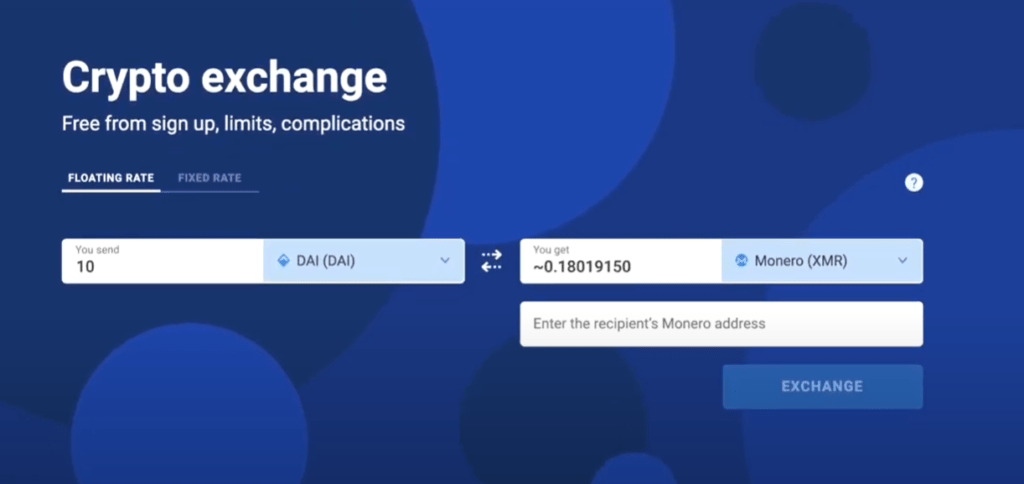 Here's how it works:
Step 1. Choose your desired crypto exchange pair.
Step 2. Enter the recipient address where you'll receive your converted coins.
Step 3. Send your coins to the address provided to commence conversion.
Step 4. Once they receive, wait for them to confirm and exchange.
Step 5. If all goes well, you should receive your coins.
Three great features on SimpleSwap:

1. You can buy crypto with credit card
Not only supports crypto-to-crypto exchange, also lets you instantly buy cryptocurrency with USD or EUR using a VISA or Mastercard.
2. You get the best exchange rates
Choose between a fixed or a floating rate to get the best rates in the market. You can then compare and find the best rate directly on the website. Also, there are no transaction limits!
3. You're not required to create account to start swapping.
No more waiting for your account to be approved before you can transact. You can exchange any cryptocurrency you want instantaneously. You can start comparing your rates here.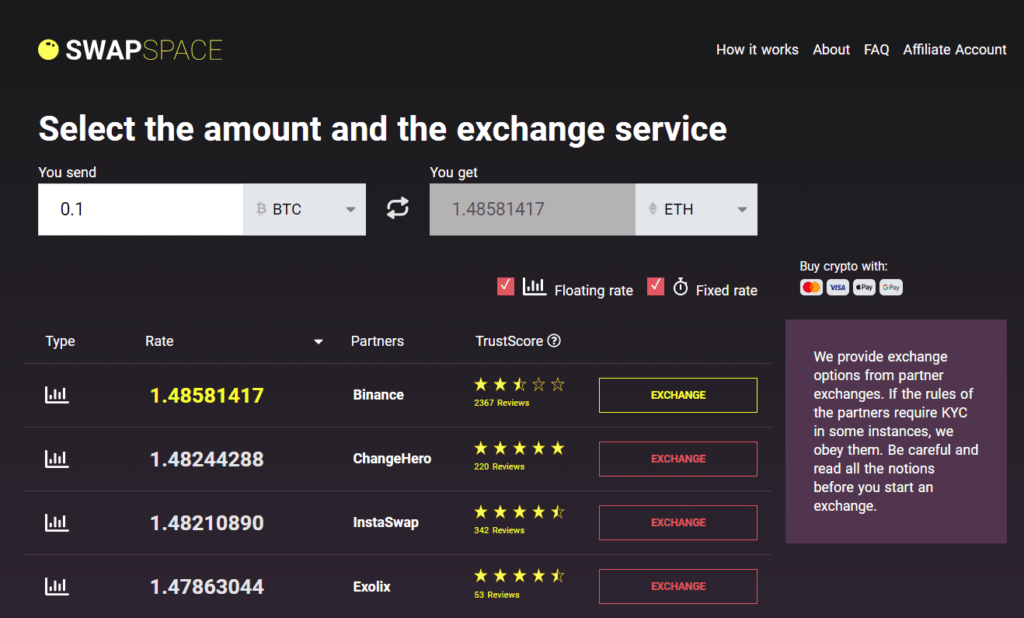 SwapSpace works like a search engine that aggregates crypto exchange rates from around the web. This platform allows you to surf through the best swap offers in one single place.
There are over 600 cryptos and more than 60,000 exchange pairs to choose from where users can simply swap without the hassle of creating an account.
Quick Swap Guide:
Enter the amount you'd like to swap > View Offers > Choose > Enter your wallet address > Transfer your funds > Wait for them to process > Voila!

So far SwapSpace has received a rating of 4.4/5.0 on Trustpilot:
No need to register or complete KYC

Fixed/Floating rates

No upper limits – ∞ 

More than 600 coins

24/7 support
| | |
| --- | --- |
| Assets available | 140+ |
| Fees | 0.5% |
24-hour statistics:
2831 transactions made
74% Regular users
18.4 minutes (Avg. processing time)
40125 Visits
I personally used Changelly to convert and instantly swap my Altcoins effortlessly. They gave me the best rate and listed their fees transparently upfront. Changelly's algorithms are integrated into some of the world's most popular cryptocurrency exchanges like Bittrex and Poloniex.
Their partnership with A-list companies in the cryptocurrency space makes them highly robust and reliable. Binance for example provides Changelly with real-time cryptocurrency rates of almost 120 coins and tokens.
At 1,400,000 transactions per second, Binance is the fastest exchange on the planet, giving Changelly the ultimate unfair advantage when it comes to matching the best available rate at any moment in time.
Many Cryptocurrency wallets like the Trust Wallet, Exodus, Jaxx, Coinomi, Mycelium, Ledger and Trezor integrate Changelly's API into their platform.
They are by far the most trusted service when it comes to instant exchanges. Having served over 2 million registered customers worldwide.
How to Instantly Swap Any Cryptocurrency (At the Best Rate)
Step
1

: Check the

Rates
Step
2

: Enter your Wallet Address
Step
3

: Send your Crypto to their Address
Step
4

: Wait for Confirmations
Step
5

: Done!
I tested this twice by converting all my Altcoin in two separate transactions. It took about 60 minutes to receive bitcoins at my end as soon as 16 confirmations were registered on the blockchain.
Bitpanda is Europe's leading retail exchange for buying and selling cryptocurrencies.
It launched the Instant swap feature back in 2018 which allows registered customers to instantly convert their crypto from within their Bitpanda wallet account.
Reports have so far indicated that their swap service is somewhat expensive. Convenience does come at a price. Instant crypto conversion may not be their forte. But they do have a good track record when it comes to support and offering a wide-range of Altcoins for purchasing.
Convenient yes but it cost me £12 to swap £360 pounds worth of Ethereum to Stellar. Only had £348 worth of Stellar after the swap. I really do like Bitpanda but I thought this fee for a simple swap was ridiculous.

— BitDaddy (@1BitDaddy) January 11, 2019
Their swap feature is only available after you've registered with them. And before you can use it, you will have to deposit your crypto into their custodied-wallet. There are no limits on your coin conversions.
Atomic Wallet is not an Instant exchange but a light-weight universal cryptocurrency wallet that allows Atomic Swap Exchange.
Atomic Swap is new. It is different.
It allows you to convert one cryptocurrency for another without going through any 3rd party.
Even in all the Instant exchanges that I recommended above, all are highly subjected to third party whims and fancies. Exchange rates remain volatile, you may be presented with one offer, but end up getting another.
There are plenty of risks involved with going through third parties, your crypto assets may be taken hostage and you may be forced to reveal your identity. This has happened before.
For this reason alone, you should consider the risk of initiating a transaction through any centralized exchange.
That is why, Atomic swap exchanges are revolutionary.
They offer something incredibly valuable for Instant conversions which are permissionless, unconfiscatable, neutral & decentralized.
For example, say you wanted to exchange some BTC for LTC. All you need to do is to place an order in the wallet's decentralized order book. You don't even need to register for any service or use some intermediaries like exchanges or swap platforms. Your bitcoins will be safely transferred to the Litecoin blockchain, so you will get back the equivalent amount of LTC you originally ordered.
Currently, Atomic Swap only supports 3 pairs of cryptocurrencies (LTC-BTC-QTUM). Atomic Swaps for ETH will be released soon. (They've partnered with Changelly, Shapeshift and ChangeNOW for other swap pairs)
Conclusion
No matter which Instant exchange you choose to convert your coins, please note that they all employ an automated risk management system to check all transactions.
Each case will be considered individually and they will not reveal their procedures to anyone.
According to European AML directives, KYC regulations, and platform requirements, they will ask you to provide a scan of your ID document valid in your country, as well as some additional information on the funds' origin if they detect any anomalies.
All in all, there's very little to separate these instant cryptocurrency exchanges, but the uncertainty over trading would sway them slightly in your favor. Read this article on why you shouldn't trade cryptocurrencies.